There are a lot of companies and enterprises that develop their relations through the online world. For sure, most of them start as a physical company, that with the pass of time they begin to get into the internet world. Despite there are too many kinds of digital marketing strategies, one of the most popular is the email marketing strategy.
We have to know that from the beginning of the creation of the internet, all the businesses around the world have been trying to use it in their favor. However, use different digital tools and strategies is not as simple as some people think. If we don't use the strategies that adjust best to our business, we can fail epically.
For this reason, we want to introduce you to one of the best and reliable strategies that you can use to promote your business. We are talking about email marketing. But you probably could have some questions about this strategy and how it can be useful to your business.
You don't have to worry about it at all because we want to give you a guide with the five secrets to develop the best email marketing strategy. and get success.
What is email marketing?
The first thing we have to know is what email marketing is. Based on that definition, we can start to work on using all the features of this digital strategy to get more clients, increase or earnings, and notify our subscribers about the offers that we can offer them.
Email marketing is a digital marketing strategy designed to promote your business. With this strategy, you need to create a list of subscribers to be able to send them all the news and information that you want to transmit.
All these are based on your need to get more purchases, more clients, and even just more views and clicks. However, it does not only depend to send emails randomly to any email address you find. There are some strategies that you can use to your email marketing campaign be a total success.
5 secrets to developing the best email marketing strategy
At this moment, you have already known all the basic things about email marketing; you are ready to know the five secrets to develop the best email marketing strategy.
1) Make your emails unique and personalized.
The first secret we want to tell you to get success with your email campaign is to be as creative as possible. It is going to call more the attention of the reader, but try to don't overpass a little bit with this process.
We have to remember that if we add too many elements to the email, they are going to last more time to open, and users can lose interest. Ovoid to add videos if it is not necessary, despite they can be very descriptive, it is a little bit complicated to charge.
Keep it simple and make sure that all content can be read. It is essential because a lot of times people use a color combination that doesn't let the readers see what you want to transmit.
Another fact about personalization is not only about creativity but is about making feel the reader confident. You can earn this confidence using the name of the subscriber or if you get it through a lead. The most important is to have the name so you can be able to use it.
Besides, you also can use some sentences to make it feel involved with your business like "hey based and your last visit, we have these recommendations for you" or offer some special offer to those people that visit some special section in your website.
It means that if you have an online clothing shop and some clients were watching the shirts section, you can aboard them in two ways:
Based on their search, recommend them another shirt.
Based on their search, recommend them complementation to those shirts.
At the end of the day, the most important is to create a link with the users and make the proper connections between your website and their needs; and you can do this with email marketing.
2) The segmentation can be your best move.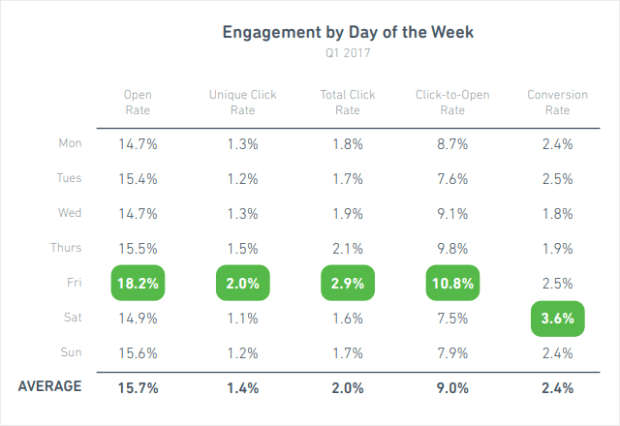 The segmentation of your email marketing campaign can help you to make it more specific. The specificity is going to let you reach each audience in the right way. After all, not everyone was the same likes, interests, and localization.
But, despite this irrefutable fact, there still are companies that send emails to users about events or offers that don't apply to their localization or are related to what they want. At this moment is when the segmentation makes its stellar apparition.
The segmentation is going to separate your email list into different groups based and the quality that you want. If you want to create an email campaign to invite your subscribers for a special event of your business, you can segment the list to send them just to those users that are near the event.
In this way, you are not going to lose your time sending emails to the wrong people. Besides, it is going to let you keep your subscribers and decrease the amount of unsubscribes.
3) Adapt your emails to all the devices.
Certainly, email marketing strategy was one of the first of all, but it does not mean that it did not change with time. We have to remember that today it is more the number of people that use mobile devices to make any digital activity than those that use computers.
For this reason, is indispensable adapt your emails to all kind of devices. There is nothing more annoying than open an email and check that you have to move too much to the left and right to be able to see it.
Most people even do not try to read the email if they look that it is not adapted to their cellphones or tablets. It is the main reason why you should not forget to adapt the content of your email campaign to all kinds of devices.
It will help you to guarantee that every reader receives the message and probably get on your website to know more or make their purchase. After all, this is the purpose of applying a good email marketing strategy.
4) Use automatic email campaigns to get more clicks.
We understand that one of the problems of apply email marketing is the time that it is involved. Besides, there are occasions when we forget to send the email campaign and lost the opportunity to get more clients or subscribers.
However, you do not have to worry about this issue anymore because thinking in this need of several companies
started to born new providers dedicated to doing the rough work for you. Most of these providers offer you a global service to improve your email marketing.
They have email creators with templates that you can use to accelerate the process of create the email campaign. After you create the campaign, you only have to get in the list of emails of your subscribers and prepare to send them.
It is when becoming the automatic part these providers offer you send the email campaign by themselves. You only have to set the time and the day in your calendar, and they will do it. Besides, you can create different campaigns based on your segmented groups, and they will send each one of them to the right subscribers.
Also, they can offer you some statistics to know how many of your emails were received or not, and how many of them redirect users to your website or promotion. In this way, you can have all the aspects of email marketing in just one place.
5) Don't forget about the inactive users.
One of the common mistakes that business owners make at the time to create their email marketing strategy is forgetting the inactive users. We have to know that there are some ways to check the behavior of our subscribers on our website.
In this way, you can check which of your subscribers have too much time without interact with your website. It will allow you to create a special email campaign to attract again all those inactive users.
Start to make your email marketing campaign.
To start to make your email campaign there are some steps that you must follow to get success. First of all, as we tell you before, you need to have a good email list to send your email marketing. Some of those emails can become from your website subscribers.
However, with this kind of audience, the problem is that they already know your work and most of them already are your clients. After all, one of the biggest objectives of applies an email marketing strategy. is to get more clients. For this reason, the most recommended is to generate leads to get more emails and get the right audience.
After you get the proper email list, you should search for a find email service provider. This kind of provider is going to help you to segment your audience. It is very useful because it is going to help you to send personalized emails based on the audience that you want to target.
Besides, most of these email service providers not only help you with the segmentation, but they also offer you automation services that are going to send the emails for you. You only have to add the email you want to send and the email list, and they will do the rest of the work.
It works the email marketing.
The success of any email campaign is going to depend on the strategy that you implement. However, some problems could make that our email marketing strategy get failed. The main problem of that is being noticed.
For this reason, companies send thousands of daily emails hoping to get a great response.  However, the amount of emails is not the most essential part of email marketing. After all, once you have the list of emails, it is just a thing to send it. But, the success of your campaign mostly depends on the content that you want to send.
You cannot pretend to send the send email to all the people on your list indiscriminately because according to the audience you want to attract, you are going to change the message of your emails.
In this way, email marketing works, but not all companies know how they can do it right. For this reason, we want to tell you the secrets to you can reach the success of your email marketing strategy.
An email marketing strategy is one of the best digital marketing strategies.
Certainly, we have to know that email marketing is not the only strategy that companies and even small businesses can use to promote their products and services. After all, the digital marketing world involves a lot of techniques and strategies.
But, email marketing was one of the first digital marketing strategies to be created. We have to remember that before the creation of social media and mobile devices, people communicate through emails. For this reason, this strategy has been maintained over time and keeps helping most businesses to promote themselves.
The success of your email marketing strategy is in your hands.
As you can see create an email marketing strategy that capable to adapt to your business needs is easier than you could think. The key to the success of your email campaign is in your hands.
You only have to follow all the recommendations that we told you through the secrets of email marketing, and you are not going to have any problem. Do not wait any more time and start to work on your email marketing strategy for your business. You are going to notice the difference between applying our tiny secrets and do not do it.